A 'culture-bearing' book that unleashes
our full human potential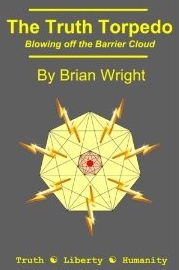 In Veritas, Libertas!
George Orwell wrote, "In a time of universal deceit, telling the truth is a revolutionary act." Author Brian Wright argues that today a minority of power-diseased and perversely overcapitalized men—via subservient academic and journalistic syndicates—fosters a number of Big Lies…


Truth: The rEvolutionary Act

These lies (and their coverups) are woven by the powers into a sophisticated propaganda and behavior control technology, applied to a dumbed-down population brainwashed since childhood not to question authority. Deceit forges the chains of human bondage. Truth breaks the chains.

The people must become as guileless and fearless as the little boy in Hans Christian Andersen's, The Emperor's New Suit, who exclaims the emperor is clearly clothing-free. The Truth Torpedo's seven simple Little Boy Truths pertain to the following issues:

1. The 9/11 attacks (a) (b)
2. Obama's qualifications for president (c)
3. Global warming (d)
4. Chemtrails—atmospheric geoengineering (e)
5. 'Cabalization'—Western financial oligarchy (f)
6. US Government as a terrorist organization (g)
7. The federal 'income' tax (h)

Grassroots public insistence on truth and justice in these areas will usher in the 'New Paradigm:' a free, benevolent, healthy, abundant society worldwide. We will break the chains, dispel the Barrier Cloud .[1]


Join the Truth rEvolution
Read the Good Word, Spread the Good Word!

Please read and share this book with everyone you know!

For additional information please use the form on the right side of this page to send me your contact information and a short message of how we can work together. The TT Amazon page supports a healthy discussion of the book and a TT Facebook Group has also been built to stimulate conversation.


About the Author

Brian Wright was born in Michigan in 1949. He grew up near Kansas City, then in junior high his family moved to Oklahoma City. In a bookmobile he discovered seminal writings about liberty that led to his participation in the Goldwater campaign for president (1964). Moving to Detroit, while acquiring a BSME from Wayne State University in 1969, Brian became a passionate advocate for Ayn Rand's artistic vision of heroic individualism; in 1972 he cofounded the Libertarian Party of Michigan.
For the next three decades, he engaged in public speaking, writing, and other activities to promote cultural reason and liberty. [In 1992, Michigan drug police raided Brian's apartment, resulting, seven years later, in a bizarre case convicting him of growing a small amount of marijuana in a Phototron.(!) This assault by the War on Drugs inspired Brian's migration to the Free State in 2004.]
From 2002 to present, Brian has adopted a course of direct action toward political freedom, peacefully taking his freedom rather than beseeching a terrorist nation-state to let him have it. Jason Sorens' Free State Project—cultivating an intentional libertarian society in New Hampshire—was a catalyst fueling Brian's independent literary and Web output. He temporarily lives abroad from the Free State in the US Great Lakes region.
Brian's full portfolio of books and writings.

---
Yes, I want to help spread the Word!
---
[

1

] The Barrier Cloud is a complex neural-sociological impediment to human fulfillment documented by Brian Wright in his book of the same name.